The Walther P.38 is the most iconic pistol produced in World War II. Safe, reliable, stylish, precise, modern. More than a million pistols of this design were produced from 1938 until the 1980ies. This results in a wide range of variations – ideal hunting grounds for collectors worldwide.
This source based and detailed book helps you to separate the wheat from the chaff. The autors personally checked several thousands pistols, went to the german military archives and used the famous Orvel L. Reichert P.38 database to create the ultimate book about the P.38.
Did you know? The P.38 is the ancestor of the actual US sevice pistol M9 – the best reason to learn all about this interesting piece of history.
"All about the P.38" is a RWM publication. English version available February 2018.
European customers please preoder here!
US and CAN customers please check Simpson Ltd.
---
Some highlights:
► Basic knowledge for every collection – the fact sheets show all variations: Known serial numbers, percentage of over-all-production, production details and figures, acceptance markings
► Photos in high resolution – see every detail
► All about the troop trails in 1939 – results checked on the range.
► Surprising content – a troop trial P.38 hidden for decades in the ground
► Personal documents – see who used Walther's pistols
---
Book review: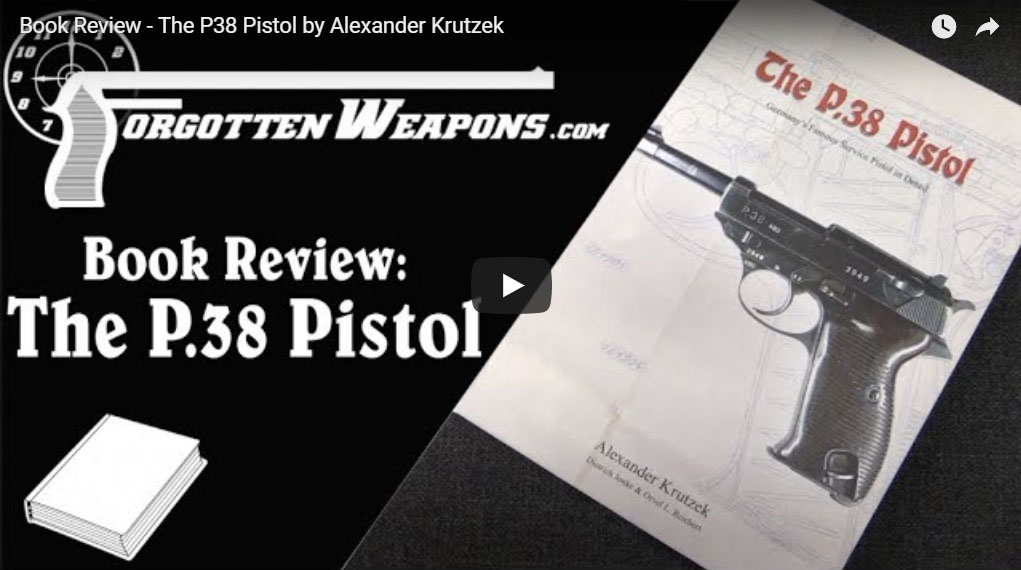 Forgotten weapons (Feb 21, 2018): "If you have been looking for a comprehensive reference work on the P38 pistol but balked at paying $400 for the out-of-print three volumes by Warren Buxton, the solution is here. Newly available in English is "The P.38 Pistol" by Alexander Krutzek, with Dietrich Jonke and Orvel Reichert. Based in part on a massive 43,000-gun database compiled by Mr. Reichert, this book is an excellent and well organized reference for the P38 collector.
Spanning the life of the P38 from pre-production trials guns and the commercial HP series through to the French and Soviet post-war production (although not the P1), it includes major sections on each of the manufacturers (Walther, Mauser, and Spreewerke). The major variations - all 27 of them - are broken down and identified, along with as many as half a dozen subvariations for each one. This comprehensively covers both the mechanical changes made over the course of production at all three factories as well as major subcontractors and changes to markings. Unlike some information-heavy reference books, this work by Krutzek is also quite well organized, and easy to navigate when trying to identify and actual P38 specimen of unknown type.
Beyond the classification of the different pistol variations, the book also includes detailed descriptions and photographs of each individual part and its changes through the war. There are also substantial sections on magazines and holsters, plus shorter sections on manuals, cleaning kits, training materials, and other ancillary subjects, for a total of just over 600 pages. If there is a weakness to the book, it is that it does not do much to put the P38 in context (although competing production of the P08 and P38 is discussed in several places). The book sets out to be a technical collector's reference work, and fulfills that goal very well. It will absolutely remain a standby reference in my library, and I would consider it an essential resource for anyone with an interest in collecting!"